© Copyright 2017 Code Blue Designs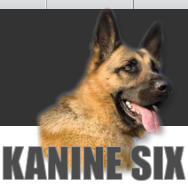 KANINE SIX Help and Training
KANINE SIX software is the latest version of KANINE Software and
has many new and exciting features. Although ease of use has been a
key consideration throughout the KANINE SIX development process,
here are some training videos to help you understand the software as
thoroughly as possible.
This is a simple introductory video that highlights
features available to anyone using the software in
FREE mode.

This video walks you through the process of getting
started with KANINE SIX in FREE mode. KANINE
Software is proud to be the only K9 Records
software that allows for unlimited K9 Training record
entry.
This video details the process of allowing KANINE
SIX to create a record from a pre-recorded GPS
track that is in gpx format.
An informational video about the features of the
newly redesigned Officer's Daily Log screen.
This video outlines the functionality that is available
to Search and Rescue personnel that minimizes
law enforcement specific fields and functionality.