© Copyright 2017 Code Blue Designs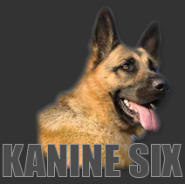 Code Blue Designs is proud to announce the imminent
launch of KANINE SIX, K9 record keeping software.
KANINE SIX is a culmination of sixteen years of K9
records software development that emphasizes simplicity
of use and function.
With a redesigned database, and easier record entry,
KANINE SIX promises to be the most user friendly K9
records software in the world. And, with many new
features, it promises to be the most functional as well.
KANINE SIX has many new features that
users of earlier versions will love, along with
many of the same features that they are
used to. Some of the new features include:
•
A limited FREE version of the software
that allows for unlimited K9 Training
record entry. (Entry of other record
types is limited).
•
A one time pricing option that allows for
full use of the software, with no server
based functionality.
•
An annual license option that allows for
full server based functionality as well as
historic weather.•Easier record entry
and navigation.•Record creation and
mapping from Gpx files.
•
On the fly drop down list item additions.
•
Easier K9 reliability maintenance and
reporting
•
$99.00 One-time license option
(Limited Internet functionality)
•
$50.00 Annual license option
(Full functionality)
•
•$2500.00 Yearly enterprise
license (Full functionality with
unlimited users for large
agencies)
•
All 2016/2017 KANINE 5.0
software purchases and Visual
Pro users will receive free
upgrades to KANINE SIX.
Developing K9 applications since 2001